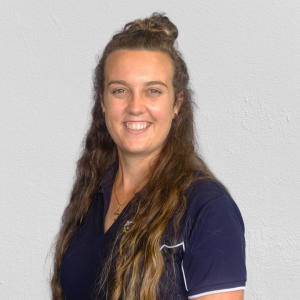 Eden MacNeill
Exercise Physiologist
Eden is an enthusiastic exercise physiologist who loves working with paediatrics, women, and cancer. Eden has been involved with John Hunter Children's Hospital working with children and adolescents who were diagnosed with cancer both during and after treatment. She has worked with children and teenagers with autism, mental health conditions, cerebral palsy, and motor control issues. Eden loves getting creative and fun with her exercises, so everyone is enjoying themselves.
She works with women of all ages and different conditions including pregnancy, menopause, osteoporosis, polycystic ovarian syndrome and incontinence/prolapse. Eden enjoys making sure mum and bub have an active pregnancy and use exercise to help recovery following birth.
Eden has worked with a range of different cancers before including leukaemia, breast, ovarian and osteosarcoma. She enjoys helping people to manage their side effects and help to maintain their physical activity throughout treatment. Eden wants to help improve their treatment through personalised exercises and reduce the long term effects of some cancer treatments.
When Eden is not working, she is trying new activities and adventures! She loves to cook and attend cooking classes to learn new skills to try out on her family and friends. Eden loves most sports but especially football (soccer)! She loves spending time with her family and friends and absolutely loves her two fur babies Pia and Rey.