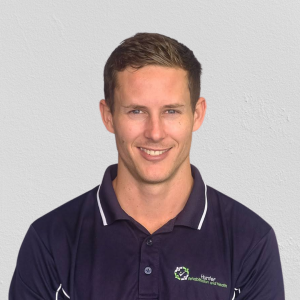 Mark Spencer
Exercise Physiologist
Mark is a passionate Exercise Physiologist who graduated from the University of New England. Mark loves helping people overcome their barriers and get back to doing what they love. He is passionate about helping people recover from musculoskeletal injuries such as shoulder, knee and back pain and prides himself on his ability to assess and create effective programs for his clients.
Mark is a firm believer that the injury or condition doesn't make the person and he likes to get to know his clients and ensure that their rehabilitation experience is as enjoyable and interesting as possible.
Mark also enjoys educating the next generation of Exercise Physiologists and coordinates the supervision of University students completing their work placement with Hunter Rehab.
Outside of work, Mark is enjoying being a new father and all the spoils that come with parenthood. Mark is also a member of Waratah Golf Club and loves playing with his two dogs Jack and Jill. Mark is a mad AFL fan and supports the Western Bulldogs